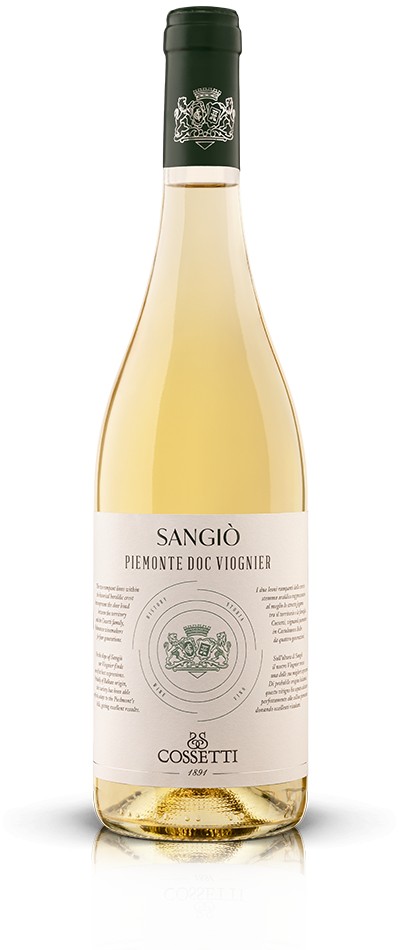 Piemonte Viognier Doc 2021 Sangiò
Variety originating from Balkan area and then
emblematic grape of the Rhone Valley, Viognier was
included in Piedmont DOC denomination in 2020 and
finds in southern Piedmont a place to greatly express
itself. The hill of Sangiò offers the perfect microclimate
with its South-East exposure and marly-calcareous soils.
A variety that will fully conquer your palate.

APPELLATION:
Piemonte DOC
VARIETY:
Viognier 100%
VINIFICATION:
The grapes are collected in small containers, soft pressed and
undergoes fermentation in temperature controlled steel vats at 15-17°
until all sugars are consumed. 20% aged in new Grenier tonneaux for
5 months.
CHARACTERISTICS:
Golden yellow colour, fresh and persistent aroma with hints of
levander and fresh fruits like peach and apricot. Dry, mineral and
pleasant on the palate with a fresh and harmonious flavour.
PAIRINGS:
Excellent as an aperitif, best tasted with cold hors d'oeuvres, fish and
seafood.
ALCOHOL CONTENT:
13,5%
SERVICE TEMPERATURE:
8°C
AVAILABLE SIZES:
bottles 0.75L
Currently the product is not available!